AN ABSOLUTELY MIND-BOGGLING ACHIEVEMENT!
Discover How Shirley Hudson Has Achieved +90% Trading Accuracy & 6400+ PIP Gain Since Jan. 2010 by Only Trading the Forex Several Hours a Day! (with Full Proof!)
Dear Trader,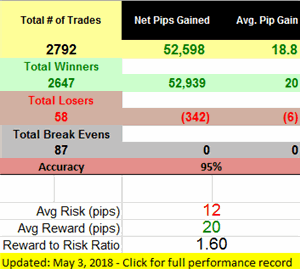 You read it right! 90+% accuracy since January of 2010. This is what our member Shirley Hudson has been able to achieve by trading her simple yet highly effective "London Close Trade" strategy. In fact, Shirley has been trading this strategy for almost 2 years now but she only started keeping a track record on spreadsheet since January 2010.
Now you are probably thinking that the risk must be extremely high to generate these unbelievable winning percentages.
Absolutely not! Quite the opposite.
With this strategy, Shirley usually never risks more than about 20 pips. In fact, her average reward-to-risk ratio is about 1.24 to 1.
There's Even More Shocking News I Have to Share with You About Shirley's Killer Strategy...
These trade results are not hypothetical. They are 100% real. Shirley fully understands that people may be skeptical of her claims, so she offered to show me her trading records as proof that this method works. Well, I have seen the records and boy, does it ever work!
In 16 months of careful record keeping, Shirley has profited an astounding 6409 pips (and counting) using this simple strategy. Out of 319 total trades, a staggering 291 were winners, 13 were break even trades and only 15 trades actually lost money! That's a 90% winning ratio with an average return of 23 pips gain per trade! Folks, I am not making this up.
Click here for Shirley's full performance record
Click here for the latest performance in Excel format
By the way, if you think Shirley is an impulsive "gunslinger" trader, you would be quite wrong. She will tell you that she's extreme conservative with very low risk tolerance. This is why this system works so well for her.
Ok, So What is the London Close Trade in a Nutshell?
You are probably on the edge of your seat wondering exactly what this strategy is all about? Well, it is not as complicated as you might think. You see, because Shirley lives on the West Coast of North America, she finds it impossible to stay up all night to trade the active London session. Besides, she has a very active life as a grandmother, mother, wife and Realtor, so she had to adapt her trading to suit her lifestyle - not the other way around like so many other traders do. This strategy allows her to trade around the London Close which fits her schedule and is a routine she can commit to on a consistent basis.
Some of you may know that Shirley has been my student for many years. And I can tell you first hand that she struggled for many years with her trading consistency. I still remember the day when she turned her trading around, almost 3 years ago. It was the day that Shirley discovered that she was able to successfully apply an entry technique that I had shown her called the "Noble Entry". This entry technique works especially well when certain market conditions presented themselves at the London Close. She went on to experiment and refine this technique and has now perfected this trading technique.
I still remember the email she sent, telling me that she had finally discovered the exact strategy that she was searching for all those years. And she has never looked back since.
From Shirley Hudson...
Recently, I pay Shirley a visit in Washington State because I wanted to congratulate her and to find out more about this strategy. I wanted our members to hear our conversation so I brought my camcorder. I'll let Shirley tell you in her own words why this strategy works so well for her... (click below to watch an abbreviated interview with Shirley Hudson)
Wasn't that amazing? By the way, to watch the full 30-minute video interview, click the interview link on the right side bar. You will want to watch it.
Anyways, I thought, wouldn't it be incredible if the traders at Forexmentor could somehow get their hands on this strategy? I mean, who wouldn't want to enjoy a 90% success rate while keeping risk to a minimum. Who wouldn't want to spend only a few hours a day to trade a setup that happens almost every day no matter where they live in the world!
Here's How You Can Learn This Strategy...
Shirley Hudson and I will co-hosted a live webinar event on Nov. 20, 2010 during which time we spent 3 hours going over the London Close Trade Strategy step-by-step with 300+ guests. Watch the preview here. The exact same strategy that Shirley used to generate these incredible results was revealed in detail. We showed traders they can implement this strategy in your own trading. The full recording to the event is now available
Here's what you will learn at the LCT Course:
The Theory behind the London Close Trade (LCT)
The London Close Set Up
Trade Entry
Setting the Stop Loss
Profit Targets and Trade Management
Setting Up Your Trading Day
Tips & Tricks
Final Comments
Questions and Answers
Who Is The London Close Trade Strategy For?
The London Close Trade Strategy is for you if you are:
Wishing to participate more actively in the markets on a daily basis.

A longer term, or swing trader, who would like to make additional profits while waiting for longer time frame set ups to occur.

Only wanting to trade a few hours a day.
What Are the Benefits of the London Close Trade?
VERY high accuracy (92%), providing a nice psychological boost to struggling traders..
Strategy based on a proven, REAL track record. No need to re-invent the wheel!
Frequent trades, so more opportunities to bank pips.
A very time specific trade, so no need to be in front of your computer for long hours
Very well defined parameters, making the system quite objective
A great way to add trades to your existing longer term strategy
To make sure you have all the prerequisite knowledge and post webinar support, we are offering the following companion resources to all webinar attendees.
Companion Resource #1: "How to Trade Forex Using Support and Resistance". This is Vic Noble's very popular course on reading key levels in the market. You'll need this information in order to trade the London Close set up most effectively.
Companion Resource #2: "The Noble Entry Technique" – This is a video course that demonstrates how to enter trades for potentially big moves using extremely small risk. Shirley will tell you that this was the entry technique that made the London Close strategy possible.
To absolutely make sure that you are getting the best post-webinar support possible, we are offering these additional bonuses to all registered attendees.
Bonus Resource #1: Each day, for the next 2 months, Shirley or Vic will do a daily wrap up to show any LCT set ups that might have taken place, together with the application of the strategy that you learned in the webinar. This will help to cement the concepts so that they become second nature to you.
Bonus Resource #2: All subscribers will be entitled to attend a free Q & A session with Vic and Shirley (date to be determined). In this session you will be free to ask Vic and/or Shirley whatever questions you like about the London Close Trade.
Bonus Resource #3: A detailed video recording by Shirley showing ADVANCED strategies for loss mitigation and/or additional profits. With this strategy, Shirley shows her strategy for turning losing trades into winning ones. This strategy is included with the full webinar recording.